Let's talk about rear window car advertising. The rear window of your vehicle is a great location for an advertising message, because of its high visibility. When your vehicle is parked, the rear window will basically be at eye level. When you're driving on the road, the person driving behind you has plenty of time to see and read your sign. Undoubtedly, rear window car signage will get you a lot of new business. The tricky part is that obviously, you need your rear window for safety reasons. That's where digitally printed one-way vision car window signage comes in handy.
CLEAR FOCUS AUTOVUE – Rear Window Advertising
CLEAR FOCUS AUTOVUE is a self-adhesive film with two-millimetre perforations. It is fully printable on one side. So it can carry any message you like. And it's black on the inside of your car. As a result, you can look through it without confusing your eyes with a multi-colored film.
Once your Rear Window Advertising is in place, we coat it with a laminate. This will protect the ink on your sign against scratching and UV damage. Without the protective laminate, the ink would be susceptible to scratching when using your window wiper. It also prevents the two-millimetre holes from capturing water. And distorting your vision as if you were looking through thousands of prisms.
Since most car windows are curved, it can seriously distort your design. We will make sure this is minimised by making a custom template of your window. So that text is easier to read and looks a lot more professional.
After the protective laminate is installed we finish off with a 3M Edge Sealer around the outside of your sign, which will even out the edges of the sign and prevent it from capturing dust and peeling off, for ultimate protection.
All these extra protection measures together make sure your Rear Window Advertising will stay put and grab the attention of many potential customers for about 3 years.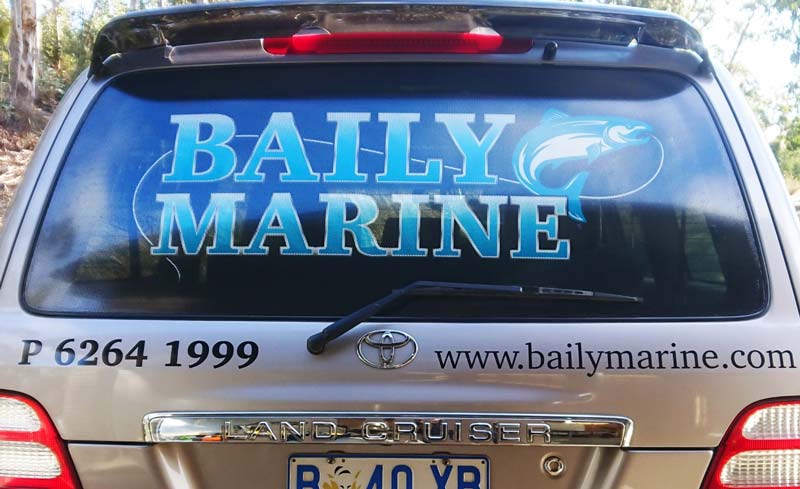 Bailey Marine

We have been extremely pleased with the quality of the product and service provided by the guys at Wrap Craft. Nice to be able to support a local Tasmanian business.
Advertise your company with high quality car window signage
With years of experience in car window signage, you can trust WrapCraft to deliver the best products for you and at competitive prices. For more information about rear car window signage and one way vision signs, contact WrapCraft Hobart. Designed to sell.
Latest Rear Window Advertising
Back window signage using one-way vision film for Bailey Marine. The perforated film allows the driver to still see through the back window. But it blocks the view inwards for pedestrians and fellow road users. This allows you to utilize the back window for advertising without sacrificing road safety. Which is great since the rear…
Wrap Craft Hobart installed CLEAR FOCUS AUTOVUE on the rear window of the Tree Beaver Service's company car. To put out their advertising message to potential new customers around Hobart. In addition to the rear window car signage, we also installed vinyl signs on the sides and bonnet of the vehicle. For the beaver, we…
As a highly visible part of your car, the rear window is a prime spot for an advertising message. The fact that anyone waiting for the red light behind or cars slowly passing by during rush hour actually have all the time in the world to read your signage and really register it into their…