Vehicle Signage is a highly effective form of advertising with incredible value for money. Partial Vehicle Wraps are a particularly great marketing investment. Almost as effective as a full wrap, but for a fraction of the cost. Give your brand more exposure with a strategically designed moving billboard.
Partial Vehicle Wraps are cost-effective
The cost of a full wrap racks up not only because of the extra material. Most cars have many creases, slots, gaps, and other complex areas which can are very timeconsuming to wrap. Not to mention deep recesses that can potentially shorten the lifespan of your wrap, because they put a lot of strain on the vinyl. And are at a higher risk popping out. Partial Vehicle Wraps can be designed to avoid these areas. Which makes them more affordable upfront and potentially longer-lasting.
Partial Wraps for Tradies Utes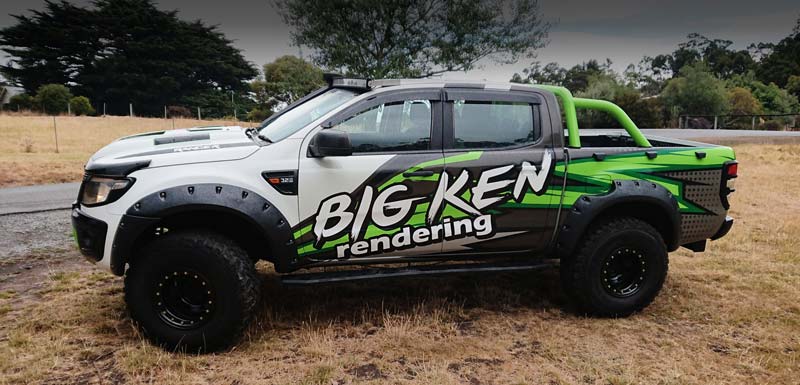 Protect the highly used back of your ute with a partial tradies ute wrap. It's a great way to create a professional brand for your small business at a low initial cost. Which leads to more ongoing inquiries. Turn your ute into a Hobart icon with head-turning graphics that won't break the bank.
By adding some small accent elements to the rest of the ute, you create a highly custom look and increase the perceived value of the car. A good example are the green wrapped roll bars on Big Ken's ute as shown above.
Partial Wraps for Busses
With such a large surface, the cost of a full wrap can be a rough hit on the budget. A partial wrap is a perfect solution. You save money while adding a luxurious and professional look to your bus. And make it instantly recognizable for your passengers.
Wrap just the back part of the bus, which still gives you plenty of canvas for corporate colors to stand out or to display an advertising message.
Another great option is a one-way-vision band covering the windows. It gives passengers privacy. While they can still enjoy the view. We only use the highest quality one-way-vision film and seal the edges to ensure durability and a lifespan up to 3 years.
Partial Wraps for Food Trucks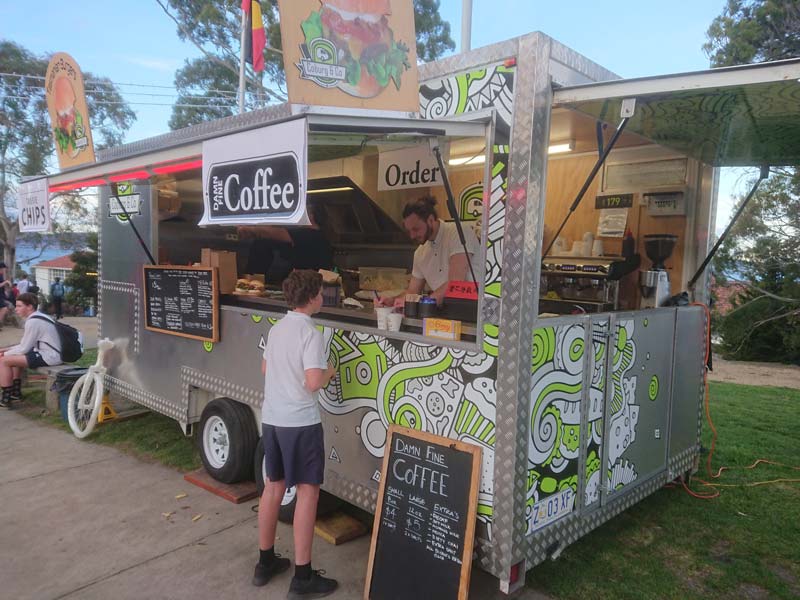 Much like buses, food trucks often have a lot of surface to cover. If the cost of your dream start-up is getting out of control, partial wraps are your savior. They keep the cost down but carry a lot of visual impact. Which you need in a busy market crowded with people and lots of colours.
Careful planning needs to go into which areas will be seen in a crowd. So as to not waste the effectiveness of your advertising. Our graphic designers create stunning visually effective designs that not only attract your attention but appeal to your hungry customers too.
We also supply any banners, flags, a-frame signs, menu boards, and business cards you need.
Find out more about Food Truck Signage here.
Partial Wraps for Vans
Make your delivery van stand out with a partial wrap. Vans' height give you ample room to advertise your message. One-way-vision film is a great way to avoid a large gap in the middle of your design. And allows you to use one of the best areas to advertise on your vehicle: the back window. The back window sits at eye-height for most people and on most vehicles. And it is highly visible when driving in traffic.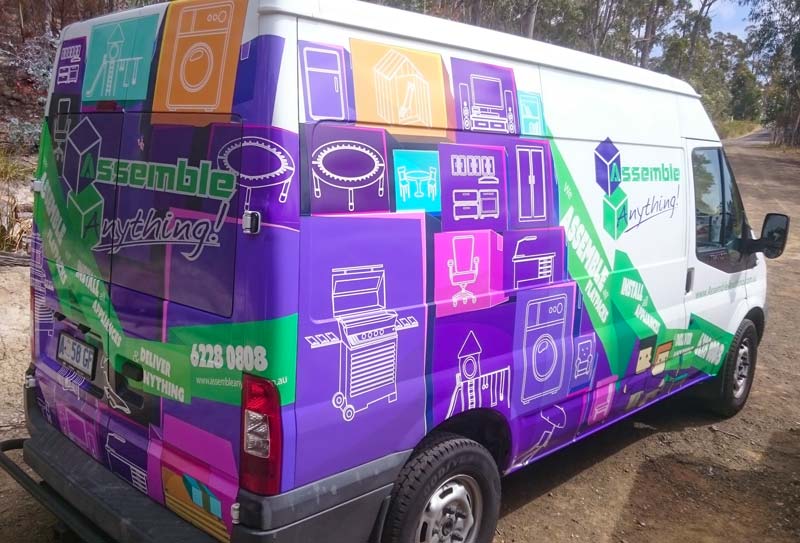 Graphic Designers specialized in Vehicle Wraps
Special care must be taken when designing a partial wrap. Our graphic designers are highly experienced in designing for and on vehicles. They know which areas to avoid to keep costs down. And how to utilize the shape of your vehicle to ensure max impact.
Whether you are starting from scratch and need a full branding package or need your exciting corporate identity translated onto your vehicle(s). WrapCraft Hobart is the perfect team for the job. Enquire about our graphic design services today.
Quality Guaranteed
We are 3M Preferred Installers. This not only gives you a warranty on materials but also a guarantee of quality. We only use the highest quality materials by market leader 3M and Avery.
We use the latest printing technologies to ensure results of the highest standard. Our high-definition large format printer uses UV resistant eco-solvent based inks. And an eight-color ink combination. This allows us to create vivid and accurate reproductions of your corporate colours.
All our prints are cured for a minimum of 24 hours before protecting them with clear UV proof laminate. It assures your wrap lasts the longest possible time, is resistant to scratches and is easy to clean.
Vehicle wraps protect your paintwork from nicks and scratches. When it's time to sell your car, they are easily removed. Afterward, you'll find your car's paint in the same condition it was the day the wrap was installed.
Get in touch for expert advice on your own Partial Vehicle Wraps. And receive an obligation-free quote.
Latest Partial Wraps
These partial wraps are a part of The District Nurses fleet signage. We designed a partial wrap which could easily be adjusted to suit several different types of cars. And on request of the client made two colour variations. One orange and one blue. The design was put together using a style guide they already…