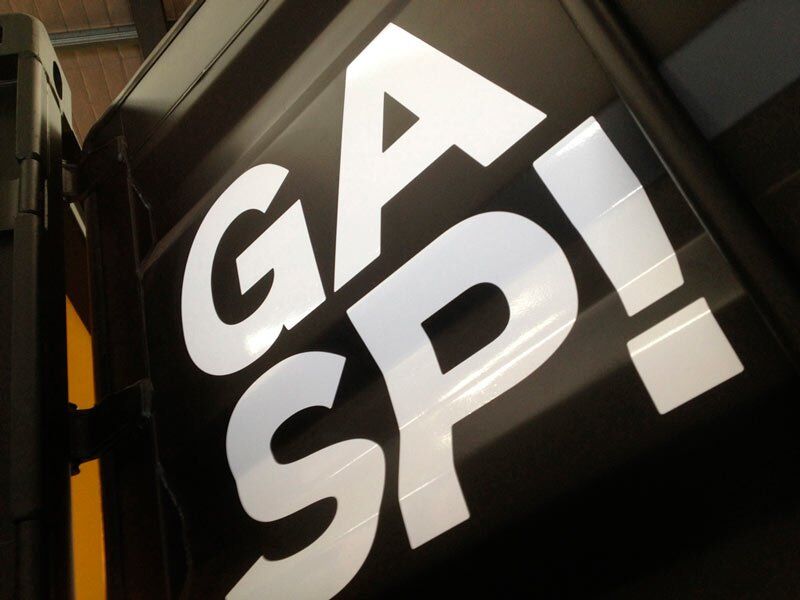 GASP! is creating a side venture by introducing their new food truck: GASP! Mobile. It's going to be popping up all over Hobart and surrounds and bring healthy yummy food and art to the community. They wanted to have their truck wrapped in a tough-looking black, that's where WrapCraft Hobart came in to apply a full matte black car wrap.
The container on the back was shipped off to a different company to get painted, while we were wrapping the cabin of the truck on site. Because of the time pressure to get the truck up and running, wrapping as opposed to painting the cabin was a great option because it can be done on-site and other parties did not have to stop their work to the truck while it got a new color. The matte black car wrap was not without challenges, considering it was wrapped onto a white truck. Even the slightest little gap would have stood out like a sore thumb. To make sure that the wrap looks like the truck's cabin was painted, it was applied panel by panel, making sure that all traces of vinyl wrapping were hidden away in the natural creases and gaps of the vehicle. To finish it all off, we applied vinyl cut lettering to the container, giving a face to the GASP! Mobile truck.
There are many great things about wrapping your car in vinyl. For starter's cheaper than repainting. It will act as a protective layer if you already have a sharp-looking paint job on your car that you either want to protect again scratching and fading or if you're in the mood for your a temporary change. Say you want your car to be hot pink, lime green or any other color that might make it harder for you to sell your vehicle in the future. Wrap it! If you decide to sell your car, simply take the vinyl off and the respectable color paint underneath will look as good as it was when the car got wrapped. If you want a color or effect that the manufacturer can't give you or you want the color of your vehicle to match the color scheme of your business, wrap it! We can wrap your vehicle in any color you like, including metallics and even some textures. That will make your car will stand out from the crowd.